Galveston Cruises and Vacations
Galveston cruises - The Royal Caribbean and Carnival Cruises from Galveston generate so much excitement among travelers.
There is a holiday feeling among people about to travel to a distant tropical paradise.
Galveston is the desired departure point in this hemisphere for cruises to Mexico and the Caribbean.
Carnival cruise line and the Royal Caribbean cruise line are the two cruise ships from Galveston.
The Carnival operates two liners. One is Carnival Ecstasy which goes on a 4 day or 5 day cruise out of Galveston Texas.
The other is Carnival Conquest which takes on a 7 day voyage to the Caribbean and Mexico.
The Royal Caribbean Cruise called the Voyager of the Seas goes on a 7 night trip to the Western Caribbean and occasional 14 night voyage to Europe.
See the excitement of people going on a cruise in this photo. It's infectious.
Cruises from Galveston cater for the need of all kind of customers including seniors, adults, singles, celebrities and kids.
Cruise packages are customized according to travelers need and trip schedules are very favorable.
See Carnival schedule and the Royal Caribbean schedule. The good thing about short cruises from Galveston Texas is the ability to get cheap cruise deals and some times last minute cruises. But be careful of unexpected expenses. They can affect a nice vacation.
Ready for a cruise? Welcome to the floating hotels. Once on board, the excitement and expectations just get better and better. Meet over 2400 vibrant tourists.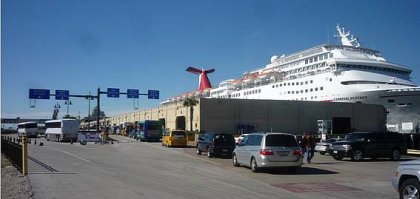 Enjoy the entertainments and the fine dining. Engage in sporting activities on board.
Go shopping on board and always remember to reserve a good amount of money for offshore attractions.
Take time to enjoy the blue sky and the stars at night on a cruise from Galveston.
It's a moment to remember. Prepare to see the interesting spots offshore.
Meet and mingle with different cultures. It's amazing what we can learn from others.
It's important to prepare for cruises in order to have the best trip.
Also remember that one can receive the best reception and services in the Caribbeans or Mexico with a little knowledge of their cultures. Find out about hotels to stay in before embarking on a Galveston cruise. Many cruise parking options are also available.
Other important trips to the Western Caribbean are Roatan in Honduras, Georgetown in Cayman Islands, Montego Bay in Jamaica and Belize City in Belize.
Click through the list below to know more about cruises from Galveston TX.
More on Cruises
---
Return from Galveston Cruises to home page