Galveston Hurricane Disaster
The Galveston hurricane struck at the peak of the island's prosperity as the capital of Texas and a bustling commercial center.
The origin of the storm was not clear. In 1900's there was not any accurate instrument to determine the origin and path of the hurricane.
The only reliable information came from ships.
The hurricane was believed to have originated from the west coast of Africa as a tropical wave.
It was sighted as unsettled water by a ship 1000 miles east of Windward Islands on the 27th of August 1900.
A warning was sent to the Galveston weather bureau from the central office in Washington about a tropical storm moving northward over Cuba.
The bureau had no way of knowing where it was going. The bureau discouraged the use of the term "hurricane" to avoid panic among residents.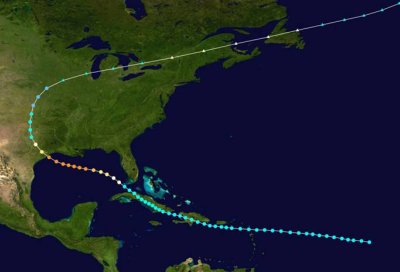 This picture shows the path of 1900 hurricane moving from the Atlantic ocean.
The storm moved through some Caribbean islands picking up strength into the Gulf of Mexico.
By the 7th of September,the weather bureau of New Orleans issued a report of heavy damage to the coastlines of Louisiana ans Mississippi.
On that same day the Galveston weather station also issued a storm warning. By then it was too late. On September 8 the sea rose up and swallowed what was then one of the richest cities in America.
More On Hurricane
---
Hurricane List
Hurricane from 1800s to......
1915 Hurricane
Another strong hurricane......
Hurricane Videos
See results of hurricane......
Return from Galveston Hurricane to home page