Quality Galveston Texas Hotels
And Reasonable Rates

Quality Galveston Texas Hotels have reasonable rates. Look for this kind of hotels in Galveston and get a good deal. There are many of them on the island.
Some of them are also pet friendly to visitors. Take a good look at Springhill Siutes, a great hotel away from the noisy beach. is a popular hotel near Moody Gardens. Inn at the Waterpark The Hampton Inn is a hotel that makes visitors feel at home. Some others are Comfort Inn near the beach and the Candlewood Suites inland.
The Best Western is another reasonable one close to the beach.
There are more to consider like the Baymont Inn and the Galveston Silverleaf Resort. Right now let's look at the Quality Inn & Suites Beachfront.
Quality Inn & Suites Beachfront
The hotel is located at the corner of the 61st street and the Galveston Seawall boulevard. It's only about 350 meters from the beach.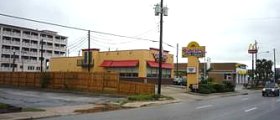 Visitors might only have partial view of the gulf.
Quality Inn is one of the few Galveston Texas hotels close to two fast food restaurants, Popeyes Chicken and McDonalds.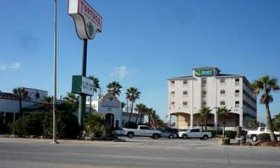 The hotel also has easy access to restaurants at the Galveston wall and many attraction sites. The location of the hotel is advantageous for visitors going on cruise. A straight drive from the hotel to the Galveston port is about 20 minutes.
Average Rate is about $110 per night.
Telephone: 409-740-1088
Check In Time: 4:00 pm
Check Out Time: 12:00 pm
Directions to Our Hotel:
Take I-45 South Freeway to Galveston and exit on 61st Street. Turn right at first stop onto 61st Street. Go about 2 miles and turn left at Seawall Boulevard. The Hotel is on the left.
Hotel Amenities • AM/FM Alarm Clock • Brailled Elevators • Continental Breakfast • Coffee Maker in Room • Complimentary Continental Breakfast • Data port Available • Handicapped Rooms/Facilities • FAX • Exercise Gym • Hairdryers Available • High speed internet access • Iron • Guest Laundromat • Microwave • Multilingual • No Smoking Rooms/Facilities • Indoor Pool • Bus Parking • Parking • Radio • Refrigerator • Safe • Sofa Bed • Telephone • Terrace • Television with Cable • TV Remote Control
Quality Inn & Suites Beachfront 5924, Seawall Boulevard Galveston, TX 77551
Return from Galveston Texas Hotels to home page