Ideal Galveston Vacation Rentals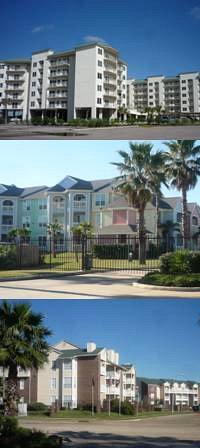 Stay in Galveston vacation rentals like beachfront rentals, lakefront rentals and Galveston beach rentals on a visit to Galveston.
There are many rentals like Hotels, Condos, apartments and beach houses that can be rented anytime of the year.
However there are some ideal vacation rentals that I believe are great for visitors to know about.
Galveston vacations can be exciting when we find the right place we like.
There are ideal rentals along the seawall, the lakefront or Bayfront and the downtown area.
Some are rented through corporations and others are individually owned.
Some are very popular Condominiums like Casa Del Mar and Escape to the Gulf.
There are elegant apartment-type vacation rentals in Galveston Texas. They make visitors feel at home.
The downtown area carries smaller homes but provide a local feel of the city.
Rentals in Galveston are equipped with amenities for a comfortable stay. All that visitors need to bring are their belongings.
Many visitors come to Galveston during the spring and summer weather. It is always advisable to make earlier arrangements for a place to stay especially in the popular rentals I mentioned.
They get full quick. Other locations along the seawall or not too far from the beach are in high demand too. The island is not very big so it does not take long to drive to sight seeing places. Galveston things to do are all over the city.
What about getting to the Galveston port for a cruise? Thirty minutes from any vacation rental is more than enough to get to the port by car.
It is always good to know some Galveston rental tips before renting. That makes the vacation even better.
Want to know more about the ideal vacation rentals? The most popular condos?
Click on these remarkable vacation resorts listed below and make a choice.
Casa Del Mar
Tourists favorite......
Escapes to the Gulf
Gulf view, sandy beach......
Other Vacation Rentals
Return from Galveston Vacation Rentals to home page