Stewart Beach:
The Most Popular Galveston Beach
When ever Galveston beach is mentioned, attention is focused on the most famous beach called the Stewart beach.
Stewart is a very crowded beach especially in Summer and public holidays. It is located at the eastern end of Galveston seawall.
The vast sandy beach can accommodate thousands of people and hundreds of cars.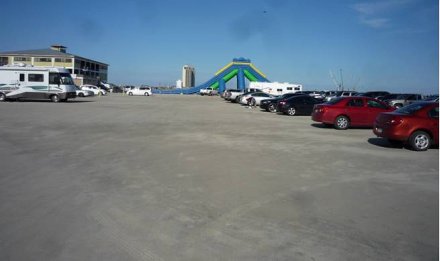 The 32 mile beach stretches from east to the west coast of Galveston.
There is a spot for every beach lover who prefers crowd or quietness.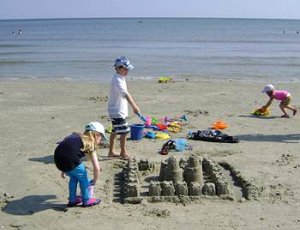 Stewart beach revels in parties, concerts, special events.
Other activities include family oriented events like sand castle competitions and volley ball tournaments.
The inviting family friendly safe environment is attractive to many tourists.
Stewart beach is normally patrolled by police continuously through out the summer days. Rules are enforced at all times. Galveston takes beach rules seriously so it's advisable to play by the rules in order to have a great vacation.
That makes the vacation period excellent.
As a matter of fact, many families get here early to stake out spots with umbrellas and chairs before it gets crowded.
We are allowed to bring our own umbrellas and chairs.
Beach chairs/umbrella are rented for $25 and car parking is $8 at the moment. Only cash is accepted.
Picnic tables are available. There are hot and cold showers, rest rooms, and a snack bar for visitors.
The atmosphere is relaxed and kids play on the beach and shallow waters under the watchful eyes of life guards.
The older ones dare the sea waves and some just walk around enjoying the breeze.
Fishing is allowed on the jetties but do not forget to get fishing license.
Why not come to Galveston beach and have fun in a great sandy seashore comparable to the Caribbean Islands like Bahamas, Jamaica or Cancun in Mexico?
Galveston is a rare unique place with historical, modern and beachattractions. attraction sites. The seawall is within a walking distance and some good Galveston restaurants are nearby.
Stay in the nearest Galveston hotel to the beach and avoid the summer traffic at the beach area.
There are quieter beaches like Pirates Beach on the far east and the west side of the seawall for those who just want to enjoy a peaceful time at the beach. Click here to find out more about Galveston beaches.
Things to remember.
Alcohol is prohibited in the "Family Beach" environment.
Pavilion with restrooms, showers, gift shop and food are available.
Boogie board, umbrella and chair rental available.
$8 for car parking and free parking available outside park area.
Lifeguards on beach in Spring through Summer.
29th and seawall site designated for boat launching.
Beach wheelchairs available.

Stewart beach

Hours:
Mar-May: Mon-Fri 9am-5pm
Sat-Sun 8am-6pm
Jun-Sep: Mon-Fri 8am-6pm
Sat-Sun 8am-7pm
Oct: First 2 weekends only: 9am-6pm

201 Seawall BlvdGalveston, TX 77550