A Good Look At Galveston Map
A good look at Galveston map will be very helpful to tourists and business men coming to Galveston. There is one main road from Houston to Galveston.
That is the I-45 South Freeway. Majority of visitors travel to Galveston on this freeway. It is easy to connect to the freeway from the George Bush Intercontinental Airport, Hobby Airport or car rental places.
Houston-Galveston traffic can be very heavy especially during spring and summer weather. There is a back way called highway 3 which runs close to Galveston.
This road takes us from around I-45 South Freeway and Beltway 8 also known as Sam Houston Parkway to as far as 3 or 4 miles close to Galveston before connecting to the Freeway again.
The only disadvantage is the number of traffic lights on the road.


A close look at the map shows the main freeway and the alternative road.
The I-45 South Freeway runs through the Galveston bridge that connects the mainland to the island. The Freeway changes a little distance down the road to Broadway street.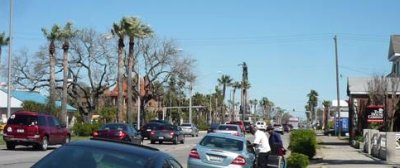 The distance from Houston to Galveston is between 50 and 80 miles depending on where the journey starts.
Broadway is the main road in Galveston and it runs straight to the beach and Galveston seawall. Other major roads from the seawall or downtown Galveston run into it.
The Galveston county map spreads beyond the island to the mainland where there are more tourist attractions for visitors.
It will also be interesting to see how the island looked in the 1800s and the 1900s The map used to be restricted to the island but growth has expanded it further inland.
---
Return From Galveston Map to home page