Sensational Palisade Palms Galveston
Palisade Palms Galveston is a stunning classic vacationer's delight. This is more than living in 5 star hotels in Galveston.
This is a magnificent high rising holiday resort suitable for families, friends and business travelers.
It is located at the east end of the Galveston beach.
The Palisade Palms can be seen from miles away even as far as the Bolivar Island.
It has a great view of the gulf. It sits right at the sparsely populated beach and open to the breeze from the gulf.
Imagine a stroll along the beach at night. This is the dream vacation to look up to.
Like I said earlier, once a while it is good to be treated like a king.
Forget about all the pressures of everyday life and just relax in a sophisticated charming Galveston resort like the Palisade Palms for a while.
The resort is fully loaded with excellent amenities.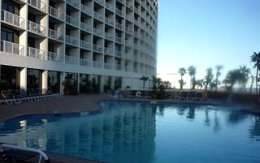 The busy Stewart beach is not too far away. The neighborhood is quiet and clean.
Most restaurants are farther down the Galveston seawall. They are 8 minutes drive from the resort.
Expect to go through some serious traffic on the Galveston seawall during the summer time.
Attractions along the Broadway street are much closer and the Strand shopping district is only 3 mile away.
A delightful vacation in Palisade Palms Galveston will always be remembered.
---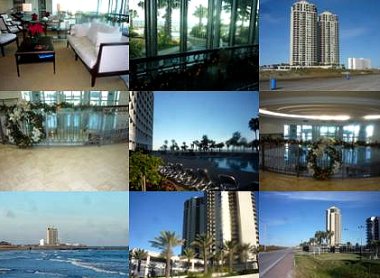 A collection of Palisade Palms pictures.
Amenities
• Property management • Front desk personnel• Conference Meeting Room• Mailroom • Tennis court• Coffee Bar • Fitness center • Games and Media Lounge • Vending and ice machines• Storage • Security• Swimming pools and spa-style hot tubs.• Children's pool• Tennis Court and Sports Court• Games and Media Lounge• Sheltered Parking• Monitored Parking• Cable TV• Wireless Computer Interface Areas • Beach-style Luau fire pit • Pet relief station • Kid's Club• Direct stair to beach
Palisade Palms 801 East Beach Drive
Return From Palisade Palms Galveston to Galveston Condos
Return from Palisade Palms to home page