Moody Gardens Galveston TX Photos
Moody Gardens Galveston TX is the top attract for Galveston tourism.
This is a carefully planned garden with tropical trees, plants and flowers.
It's so wonderful to be here spring or summer time to see this.
Moody Gardens has a beautiful flower garden with a walkway, located on the lake side. Its a place to be.
The weather here supports such tropical plants to a large extent.
Ever been in the tropics before? If not, this is the best place to be for a vacation. It can't be too different.
Take a look at some of the lively photos of the Moody Garden.

Areal view of Moody Gardens

A view of Moody Garden pyramids.

Walkway along the Palm Beach.

Entrance to the aquarium and the ice skating area.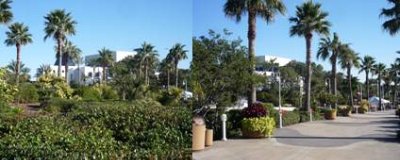 Tropical environment at the Moody Gardens.

Flower garden near the Moody Garden walkway.
Return from Moody Gardens to Galveston Attractions
Return from Moody Gardens Galveston TX. to home page