Galveston Texas Beach Pockets
Galveston Texas Beach Pockets are kind of small but valuable beaches in Galveston for vacation, sunbathing and fishing.
The Beach Pockets 1 and 2 are close to each other on 11102 and 11745 San Luis Pass Rd.
Not many people use this beach. I do not remember seeing lifeguards here but I see people drive their vehicles to the sandy beach, get out and just stroll.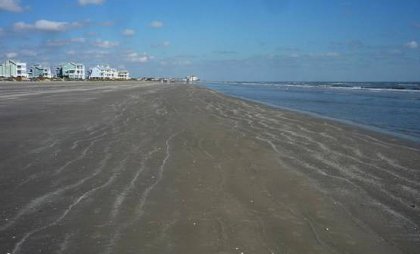 Some have their dogs with them.
I would think they are good dogs because they let them off the leash and they take off joyfully to the waters without bothering anybody.
Fishing might be exiting here for folks who love to sit down while fishing.
The nearest affordable hotels are Seascape and Escapes To The Gulf At Galveston.
Galveston beach house rental in this area is fairly reasonable.
Distance from the nearest convenience store "Lucky way Food Store" and some restaurants like Cafe Michael's Burger and Woody restaurant on San Luis Terminal Pass Rd. is less than 2 miles.
Vacationers who love privacy can look into nearby hotels or other Galveston vacation rentals around this beach. Attraction sites are not too far away.
Return From Galveston Beach Pocket to Galveston Beach
Return from Galveston Texas Beach to home page