5 Days Cruising On Carnival Cruise Galveston
Carnival Cruise Galveston? Yes! The most exciting 5 day cruise to the Caribbean Islands. The fun start at the terminal for Galveston cruises.
The fantastic journey starts at the port of Galveston cruise terminal with stops in Progreso and Cozumel in Mexico before heading back to Galveston.
It's just fun to get away sometimes to somewhere different. A journey to the western Caribbeans on the Carnival Ecstasy cruise line will be the perfect place to consider.
This is a short but well planned Carnival cruise Galveston offers to visitors.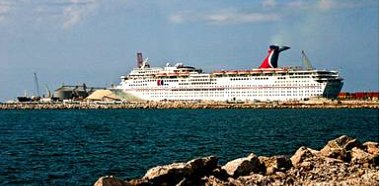 The intimate experience aboard the luxurious Carnival Ecstasy is exciting. The delectable dining options and excellent range of exciting and relaxing onboard amenities and activities make this a pleasant vacation trip.
There is so much activity onboard. Have fun in the three pools or the spa and fitness center.
Play basket ball or visit the City of Lights Boulevard for a stroll and stop by the Shakespeare Library.
Shop at the Galleria and visit Chinatown with friends. It's great to travel on this ship.
The first stop is Progreso and the second is Cozumel. Progreso has been transformed from a sleepy town to a tourist haven and a port city for cruise ships.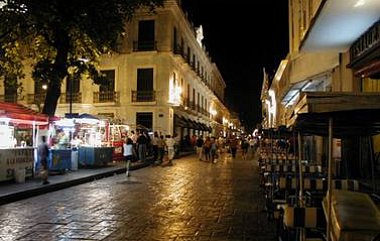 Progreso is in Yocutan state of Mexico. With a population of 49,000, it's easy for tourists to go round the places of interest.
The Galveston cruise line arrives at the port of Progreso which has the longest pier in the world. There are many souvenir shops at the port awaiting tourists.
With little time at hand, one could enjoy dining at the fancy restaurants like Palapa restaurant or stop by the colorful markets in the city. The lighthouse is also a place of interest.
A time at the splendid Malecon beach is recommended. Walk the beach or swim in the clear turquoise waters. Feel the tropical breeze from the ocean.
Merida the capital city is about 45 minutes drive from Progreso. There are a lot more attractions there. Take a ride there if possible. Adore the tropical greenery on the way. Cherish shopping in Merida.
Try a ride on the Double Decker bus or the horse drawn cart around town for a low fee.
Be amused at the Mayan civilization sight and the archeological sites of Uxmal and Dzibilchaltun.
The weather is tropical so casual outfit will be best for outing.
The next stop is Cozumel which is described in the 4 day Carnival cruise from Galveston. It's a lot of fun to go on a Galveston island cruise.
A lot of new friendships are developed and experiences are gained from different cultural environment. Truly it's a refreshing 5 day Carnival cruise Galveston came up with.
The photo below shows the street, the horse cart, the beach and the city of Progreso.
Return from Carnival Cruise to Galveston Cruises
Return from Carnival cruise Galveston to home page