Bishop's Palace Attractions In Galveston Texas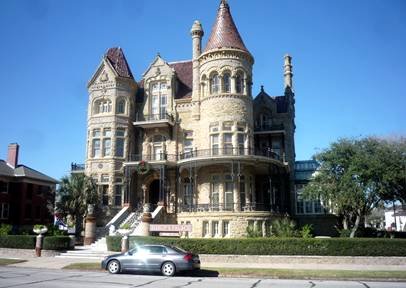 Bishop's Palace attractions in Galveston Texas was listed as one of the 100 most significant buildings in the United States.
Galveston architect Nicholas J. Clayton built this this lavish personal residence out of limestone and granite for Colonel Walter Gresham between 1887 and 1893
He moved from Virginia to Galveston after his service in the Civil War and was a founder of the Gulf, Colorado and Santa Fe Railroad. He became a politician-turned-lobbiest during the mansion- building boom of the late-1800's.
The building made up of a combination of Texas limestone, gray granite, pink granite, red sandstone and steel framing, helped it weather the 1900 Storm when thousands of buildings were swept into the Gulf of Mexico.
It was purchased by the Catholic Diocese of Galveston in 1923 to become the official residence of the bishop.
Reverend Christopher Byrne was the only one who stayed there until his death in 1950.
In 1963, the Catholic Church opened it to the public, making it the first of the Galveston mansions to be turned into a museum.
The proceeds from tours are used to help fund the Newman Center, serving Catholic students at the nearby University of Texas Medical Branch.
The interior of the Victorian style building has marbles, mahogany stairwell, stained glass, massive fireplace, wood carvings, and decorative plaster ceilings.
Below is the visiting schedule for Bishop's Palace attractions in Galveston Texas.
Guided Tours every hour:
Hours: Noon to 4 p.m. seven days a week.
Adults $10
Students (6 through18) $7;
Children 5 and under, free.
Adult prearranged group tours [20 or more people] $7.00 per person

From Basement to Attic VIP Tour
Approximate time: 2 hours, beginning at 4 p.m. (Limited to 24 per tour)
These tours occur on the third Saturday of every month.

1892 Bishop's Palace, 1402 Broadway, 409-762-2475

Return From Bishop's Palace to Galveston Texas Tourism

Return from Attractions In Galveston Texas to home page